Presentation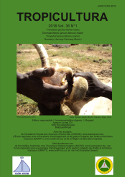 Tropicultura is a multi‐disciplinary journal, which publishes original articles, research and summary notes, overviews of books and essays, announcements and reports on films / audio‐visual resources concerning all fields linked to rural development, as well as sustainable management of the environment in overseas countries.
Scientific patronage
Tropicultura is published by the non‐profit organisation AGRI‐OVERSEAS and benefits from the scientific patronage of the Belgian Royal Academy of Overseas Sciences (RAOS: www.kaowarsom.be).
Tropicultura serves the purpose fulfilled by the "Bulletin Agricole du Congo Belge et du Ruanda‐Urundi" (Agricultural Bulletin of the Belgian Congo and Ruanda‐Urundi) until 1963. The first volume of Tropicultura was published on paper in 1983 (ISSN 0771‐3312). It was replaced by an electronic version from 2013 (eISSN 2295‐8010).
Support
Tropicultura is published with financial support from the Faculty of Veterinary Medicine University of Gent since 2013 (https://www.ugent.be/di/en), the University of Liège since 2017 (www.gembloux.ulg.ac.be) and Brussels Capital region (be.brussels.be) since its creation.
Tropicultura was also supported by the Belgian Cooperation until 2012 (https://diplomatie.belgium.be/en/policy/development_cooperation), by a gift from BEDIM (Bureau for Exchange and Distribution of Information on MiniLivestock) managed by de NGO ADG, and by the Regional Post‐Graduate Training School of Integrated Management of Tropical Forests and Lands (ERAIFT: www.eraift-rdc.org).
Tropicultura and CAMES
Publications in Tropicultura are approved by the African and Malagasy Council for Higher Education, which works for the promotion and the advancement of teachers and research scientists (CAMES: www.lecames.org).
Members of the Agri‐Overseas non‐profit organisation
Agri‐Overseas asbl consists of individual members and representatives from the following Belgian institutions: the four faculties of agronomic sciences in Belgium (Gembloux ‐ GxABT/ULiège, Ghent ‐ UGent, Leuven ‐ KULeuven and Louvain‐La‐Neuve ‐ UCL), the two faculties of veterinary medicine (Ghent ‐ UGent and Liège ‐ ULiège), animal health units at the Department of Biomedical Sciences of the Institute of Tropical Medicine in Antwerp ‐ IMTA, the Inter‐Faculty Department of Agronomy of the Free University of Brussels ‐ ULB, the Faculty of Sciences of the University of Namur (Namur - UNamur), the Department of Sciences and Environmental Management of the University of Liège (Arlon ‐ DSGE ULiège), and the Royal Academy of Overseas Sciences (KAOW ‐ ARSOM).
Scientific fields
Tropicultura publishes articles on rural development and sustainable management of the environment in hot countries: crops and livestock farming, veterinary sciences, forest sciences, soil and earth sciences, rural engineering, environmental sciences, fisheries and fish farming, bio‐industries, agri‐foods, sociology and economics.
Frequency of publication
Tropicultura is published every quarter ‐ in March, June, September and December.
Open Access publication
Since it was created in 1983, all Tropicultura articles have been published with open access. The entire text of each article and summaries can be accessed free of charge. Articles are published under the Creative Commons licence (CC BY‐NC 4.0 ‐ http://creativecommons.org/licenses/by-nc/4.0/deed.fr).
Indexing on key databases
Tropicultura is indexed on the SCOPUS, AGRICOLA, AGRIS, CABI, SESAME and DOAJ databases.
Impact factor
Steps are currently being taken to obtain an impact factor.
Distribution of Tropicultura
Tropicultura was published as a printed version from 1983 until 2012. (2,650 copies of the paper version were printed and distributed in 110 different countries).
All articles, from the first pamphlet onwards, can be accessed in unabridged form on the website (http://www.tropicultura.org/content/) and on the DOAJ (https://doaj.org/toc/0771-3312).
In 2014, Google Analytics recorded 8,648 visits from 141 countries and regions. In 2014, the Tropicultura journal was downloaded 2,173 times in 101 countries.
Tropicultura can also be accessed via the EBSCO and Bielefeld websites (http://www.base-search.net/Search/Results?lookfor=dccoll%3Aftdoaj*+tropicultura.org&refid=dclink) and via Google Scholar (https://scholar.google.be/scholar?q=Tropicultura).