Presentation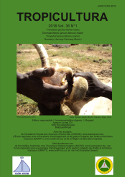 Tropicultura publishes original articles, research and synthesis notes, book and thesis summaries as well as reviews of films and videos relative to all aspects of rural development: plant and animal production, veterinary science, forestry science, soil science, rural engineering, environmental sciences, bio-industry, agro-food science, sociology and economy.
The journal is published with the aid of the "Région Bruxelles - Capitale" by Agri-Overseas in order to establish common-interest professional relationships between people working on overseas rural development.
Agri-Overseas is composed of both individual members and members of the following Belgian Institutions: the four faculties of agronomy (Gembloux - GxABT, Ghent - UGent, Leuven - KULeuven and Louvain-La-Neuve - UCL), the two faculties of veterinary medecine (Ghent - UGent and Liège - ULG), the Department of Production and Animal Health of the Institute of Tropical Medecine in Antwerp - IMTA, the inter-faculty section of agronomy of the "Université libre de Bruxelles" (Brussels - ULB), the "Facultés universitaires de Notre Dame de la Paix" (Namur - FUNDP), the "Département des Sciences et Gestion de l'Environnement de l'Université de Liège" (Arlon - DSGE ULg), the Directorate General for Development Cooperation (DGD) and the Royal Academy for Overseas Sciences (KAOW - ARSOM).
Tropicultura is published four times per year. The volume 1 corresponds to the year 1983.